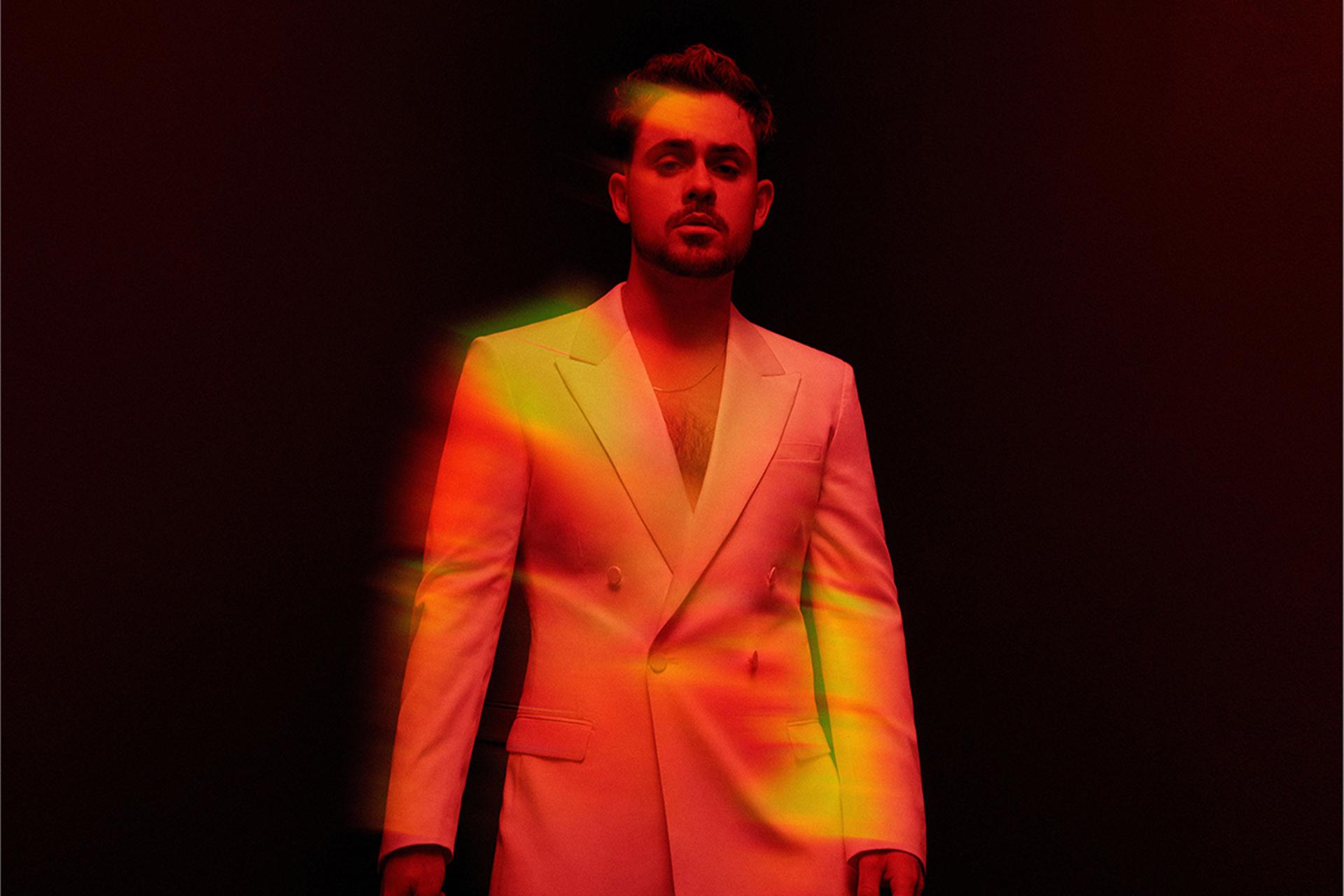 Gallery Link:
Photoshoots > Outtakes > Set 033
After Stranger Things, the Aussie actor fell into a "creative hole." Now though, he's climbing out of it.
There's a famous audition tape of Dacre Montgomery's online. Maybe you've seen it; some 18 million people have. And it's captivating to watch, not just because of Montgomery's intensity, but because of the clear control that he has at such a young age. That steady ferocity cuts right through the screen, even though he's just 'running lines' against a plain blue backdrop. It also cut through the sea of other actors gunning for a role in Stranger Things and made him Billy Hargrove, the resident bad guy on the sci-fi drama that broke Netflix viewership records on its way to becoming one of the biggest shows in TV history.

It's been almost six years since that audition made Montgomery a global star, but the man sitting in front of me has lost none of that vigour. Reclining in a side room at a studio in Sydney before the photoshoot accompanying this article, the now 28-year-old looks casual. He's wearing a plain black T-shirt, white shorts and one of those non-descript navy caps movie stars wear when they want to be incognito. The outfit is a simple one, designed to avoid attention—a far cry from the red carpet fashion that Montgomery favours. But as he starts talking about the thing he loves most—movies and the process of making them—that same intensity takes over; a passion that has him on the edge of his seat.

"When I was in my early teens, all I did was stay in my room and watch movies. And I fell in love with everything," he says. The reverence, the obsession, is what drives Montgomery, and not just when it comes to acting. On set for today's shoot, Montgomery—who was recently named the face of Politix's new autumn/winter "The Gentle Man" campaign—is completely locked in. Unlike some who see an ambassador role as an opportunity to make a quick buck, Montgomery has signed on because he's excited about the brand's refreshed look and new chapter. "I don't just rock up on time. I rock up 10 minutes early," he told me, "I don't just give one idea, I give 10 ideas because I don't engage with anything unless I'm authentically interested in it."

He's not kidding. After each burst of shots, he pores over them like he's the creative director, rather than the subject—not out of vanity, but to see if the images are challenging enough. At one point, he grabs a mirror from the corner of the room. "Let's just try it", he tells the crew, and proceeds to work it straight into the shoot.

This dedication to perfection hasn't always been easy for him or the people around him. After Stranger Things, the search for the next perfect role was almost paralysing. "Before I felt like, 'look, I'm not going to take anything unless I'm 150 per cent invested'," he says, and eventually, that attitude led to Montgomery parting ways with his team—his management, agents, everyone.

During that period, which he describes as a creative hole, Montgomery tried anything and everything. He wrote poetry (which was released as a book by publisher Andrews McMeel under the title DKMH and turned into a spoken word podcast of the same name), made short films, and dedicated himself to learning the arts of cinematography and screenwriting—at some points, he was watching three films a day, "morning, noon, night", just like he did as a teenager.

Part of the fear that drove him into that lull was the looming presence of being typecast. When there are roles being offered to you left, right and centre, which one is the 'perfect' next step to take? This year, he has started climbing out of that hole, engaging more filmmakers as well as taking on roles like the one with Politix. But, there is still a sense of wariness.

For example, as news broke that Hugh Jackman wouldn't be returning as Wolverine—a decision that he has since reversed—rumours swirled that Montgomery might step into the role. But for him, it's about the filmmakers rather than any big-name character. "It's just finding filmmakers that I'm really interested in working with and going from there as opposed to it being like, 'oh, I've always wanted to play Wolverine or Bane'," he says, "but also, I'm feeling a little bit of Marvel fatigue. I'm not really interested in it in the same way that I was."

Montgomery isn't alone in his 'Marvel fatigue', plenty of moviegoers aren't as interested as they once were—just look at the recent box office figures—but it's another example of how he's a film fan first, and an actor second. He can thank his parents for that.

"My dad started taking me to films that I shouldn't have been seeing when I was a kid," Montgomery says, "but he worked in the film industry and he would explain to me the process of everything." From the very beginning, he was exposed to not just the definitive films of the time, but also how they were made. His mother and father would take him to the sets they were working on and show him the ins and outs. "It was like, 'here's the unadulterated version of the world and the industry and here are all the ins and the outs of how movies are made."

For some actors, fame, as much as the films that inspire them, is a driver. And it's only if they reach a level of success that they really see how the sausage is made—which is not always pretty, especially if they aren't backed by a huge studio. Thanks to his parents, Montgomery is a rare actor who has always known about the gritty reality of making low-budget films—the long days, the repetition, the egos—but that's what he fell in love with. "I'm not here for money or notoriety or anything like that," he says, "I really care about the work and that's what I'm there for."

But it's that moment when he actually steps in front of the camera and it's time to perform that has always had Montgomery hooked. "When you're on set, I don't try to take up too much space and I wait until it's my time to go in front of the camera and do my little thing. But when I do that… It's ecstasy. There's nothing but that moment, do you know what I mean?"

Though it's been a few years since Montgomery has had those moments and shared them with the world—Elvis, in which he was a scene-stealer, was largely filmed in 2020—he's getting back to work. "I am climbing out of that [hole] and what that looks like is me engaging with more filmmakers," he says. Of the three filmmakers he has agreed to work with—at least publicly—one thing is clear: they aren't interested in making simple, sugar-coated work.

The first film we are likely to see in Montgomery's next chapter is Spider & Jesse, directed by Dan Kay, which dives into the far-reaching consequences of addiction. "It's about two girls that find their mother dead in the first scene and they bury her in the backyard so they don't have to go into the foster care system," Montgomery explains, "I play the mum's ex-boyfriend that was dealing her the drugs."

It's an unglamorous role with limited screen time, but that didn't bother Montgomery because it was clear the film, and the people behind it, had something vital to say. "I realised they were on a mission to give insight into the people that are affected by addiction—family, friends, and people they're associated with rather than shedding light on the addicts themselves."

Filming on Spider & Jesse, which took place in Florida, has already wrapped, but Montgomery's other two projects are yet to begin production. Both are ambitious, and both defy simple explanation. The first, titled Went Up That Hill, comes from Samuel Van Grinsven, a New Zealand-born, Sydney-based director who became a festival circuit favourite with his feature debut Sequin in a Blue Room.

In essence, Montgomery says the film is an assessment of abuse and how trauma lingers from our childhoods. Beyond the message of the film though, it's the challenging acting work—he's heading to Berlin to work with co-star Vicky Krieps (Phantom Thread, Old), Van Grinsven and a movement coach to prepare for the complex role—that has attracted him.

The same goes for Faces of Death, the other project Montgomery has been linked to, which is a remake of a 1978 American mondo horror film notoriously banned for years in countries across the world, including Australia, due to its graphic depictions of death. "I have a really interesting co-star [Euphoria's Barbie Ferreira] who I love, and the character is a serial killer, and for me, it was like, 'what's the thing that's going to scare me so much about creating this character?'" he says of the film, "So I rang the director and I was like, 'I want to go visit a serial killer in a state penitentiary in the state of California when I'm back because it scares the shit out of me'."

After these films wrap up, Montgomery plans to start his journey into directing. "I want to direct my first movie and right now I'm in the process of working on the script with my writer and then I'm going to go on the process of trying to put the movie together," he says, and he won't give much more than that away, but if there's anything we'd wager on, it's that the movie will be challenging—both to make and in concept.

If these types of films don't sound like they'll be box office smashes or Oscar bait, Montgomery isn't worried. "To me, the success of the movie is in the making of the movie," he says. "And the outcome of the movie looks like a cathartic experience making [it], as opposed to some other thing like, 'Oh, I want to get into this film festival and I want the film to have a 4.0 on Letterboxd.' That's not what I'm doing it for."

The same attitude goes for his partnership with Politix. Beyond filmmaking, Montgomery is passionate about the way that fashion allows him to control his direct experience. "I suffer from incredibly bad OCD," he shares, "And I have always found comfort in controlling my surroundings, and that is fabric. My mood is very affected by what I have on my skin and what I have in my space and what I can smell and all that sort of stuff bleeds into my personal life aside from fashion."

As with his project selection in cinema, the aesthetics are one thing, but for Montgomery to come on board he has to believe in the direction of the project.

"I'm interested in [Politix's] reworking of the company and what they're doing to reshape it for 2023 and onwards. But what I was genuinely interested in is that sensitivity of masculinity because that really is me. I am a very sensitive person. I'm very sensitive to my space and to interactions in my life. And I think this whole campaign is really about unpacking what is that."

Once Montgomery signed on with Politix to become its new face, as with his films, he was all in. From the campaign direction to the execution of the advertising, Montgomery has been instrumental. He's not just arriving, taking some photos and leaving—as with the photoshoot accompanying this shoot, he's trying to make it the best he can.

"I want the product to be good, just as good as they want the product to be and not hopefully from a narcissistic point of view, from a point of view of I want it to be good," he says, "That's more important to me than the paycheck or how many people see it or how successful the campaign is. That's the through line for me."

It's this sheer dedication to craft and passion for the work that has seen Montgomery through to where he is today. It's what made that Stranger Things audition tape so arresting and, if he pulls off his big swings, may just make him one of the most memorable actors Australia has produced. Whether those ambitious punches land or not, there's no doubt about one thing: Montgomery is ready to do the work.